Check the upcoming
SHOWS
page for gigs...
and the
AUDIO
&
PRESS
pages for more.
CURRENT NEWS
HERE
...
2013-2011
☛
2010-2003
...
2002-1997
.
*12/28/2010:
Blow-Up Mag feature on Minimal SynthWave movement
.
*10/15/2010: Futurisk's Player Piano LP in
Fact Mag's Top 40 reissues of 2010.
*06/01/2010: OUT NOW! Don't miss the long-awaited FUTURISK 30th Anniversary retrospective retrospective PLAYER PIANO LP Vinyl / D/L!
Check out today's
Miami New Times review.
GET IT NOW
on
MINIMAL WAVE RECORDS
.
Also available at
Juno
,
Boomkat
,
Insound
,
Midheaven
&
HHV
or D/L on
iTunes
,
Amazon
,
Juno DL
,
Boomkat
,
OtherMusic
&
Zero"
.
Read full review of Player Piano - Futurisk on Boomkat.com ©
*07/27/2010: OUT NOW!:
On Handheld Heroes. Receptors ~ SLEEPER Album.
Amazon
|
iTunes
|
Bandcamp
|
Purchase CD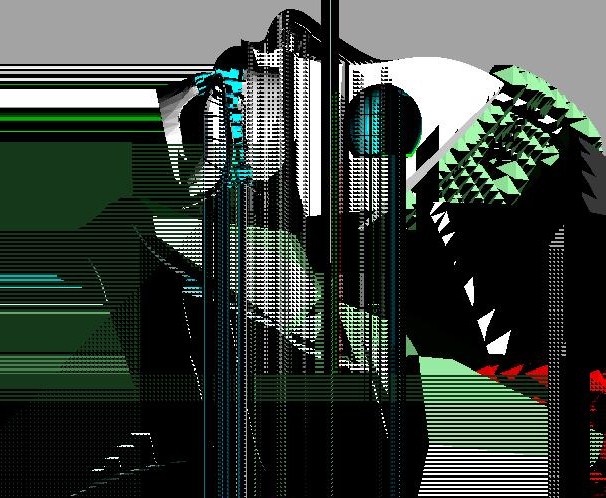 Art by Videogramo / Francoise Gamma.
*06/29/2010:
NOW AVAILABLE.
8-BIT OPERATORS T-SHIRTS!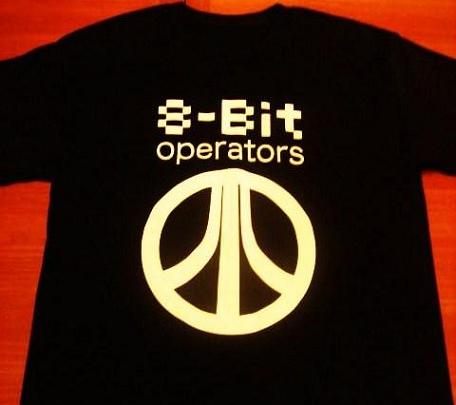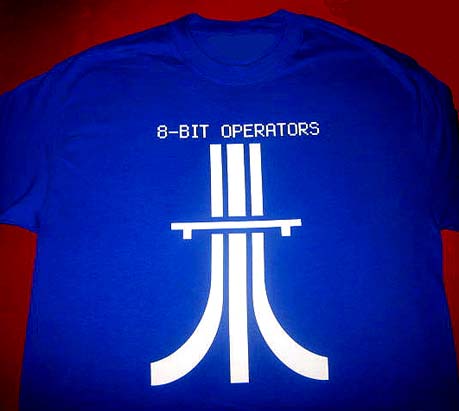 Julian van Aalderen's 8BitOps AtariPeace silk-screen on black, or 8BitOps AtariBahn silk-screen on blue Haines T!
$19.95 includes FREE shipping worldwide.
FREE BUTTONS with every T-Shirt order!
*06/11/2010: New Receptors Nintendo DS DS-10 track.
neuropa by Receptors
*01/15/2010: New Receptors Nintendo DS DS-10 track.
I'm_Mellow by Receptors
12/25/2009: MERRY CHRISTMAS! Please accept this gift from Receptors and 8bitpeoples!

NEW on 8bitpeoples!

10/27/2009: Pretty in-depth and fun podcast interview with the nice boys at The Rumble Pack (don't you dare count how many times i say 'ummm'!)
therumblepack.com/2009/10/27/episode-110-let-it-beep
10/17/09: Wow! The 8BitOperators Beatles comp had over 125,000 plays in 1 day on Bandcamp and Myspace this week!
10/09/2009:
OUT NOW! "WANNA HLD YR HANDHELD"
8-BIT OPERATORS - BEATLES Tribute!

10/06/09: Receptors on
pushbinlou's ChipTune Tuesday
on the FMA.
09/29/09: Receptors' "groKwork" featured on FMA via TCTD!
Peter Swimm (aka Herr_Professor) of True Chip Til Death, has featured Receptors and my Nintendo DS/Korg DS-10 release, "groKwork" on this week's Free Music Archive!
Microboxer-This week on the FMA
True Chip Til Death - Receptors "groKwork"
The Free Music Archive is an interactive library of high-quality, legal audio downloads. The Free Music Archive is directed by WFMU, the most renowned freeform radio station in America. Radio has always offered the public free access to new music. The Free Music Archive is a continuation of that purpose, designed for the age of the internet.
TCTD is a blog showcasing hardware, software, and artists utilizing obsolete console and computer hardware. With an emphasis on the best and the brightest works and artists in the genre, TCTD hopes to foster greater understanding of the chip movements growth as an art platform and a launching pad for the continued progression of the genre.
09/28/09: NOW on AMAZON MP3: 8-Bit Operators - The Music of Kraftwerk, full length and single!
*High quality MP3s , 15 track full-length NOW AVAILABLE on AMAZON:
8-Bit Operators - The Music of Kraftwerk
*PLUS the hard-to-find vinyl 12inch single, which is not included on the CD is ALSO AVAILABLE as MP3s on AMAZON NOW:
8-Bit Operators - Pocket Calculator Megamix
*and of course the CD with full color 12 page booklet is still available:
8-Bit Operators - The Music of Kraftwerk CD
*plus both releases are still available on iTunes:
the full length
the single
cheers!
*09/14/09: NEW! 8BitOps Youtube channel & Twitter feed
8bitops fan video channel on youtube..more to come:
youtube.com/user/8BitOperators
...and for current news on 8BitOperators join us on twitter at:
twitter.com/8bitoperators
The Calibrated Mr K
*09/09/09! 9 track SNEAK PEEK! 8-BIT OPERATORS - "WANNA HLD YR HANDHELD" - MICRO-CHIPMUSIC BEATLES TRIBUTE!
Got blisters on yer fingers(and thumbs) from yer plastic 'guitar'? Take a break and LISTEN NOW to our 1st 9 random acts of kindness, in celebration of this historic date of 09/09/09 !
*9 FREE tracks streaming at:
http://myspace.com/8bitoperators2
and at:
http://www.facebook.com/pages/8-Bit-Operators/123187835563
*Then on John Lennon'sbirthday, 10/09/09: THE 20 TRACK LINE UP and a NEW PAGE by MINUSBABY HERE!:
http://8bitoperators.com/beatles
Almost 2 full years in the making, the 8-Bit Operators "WANNA HLD YR HANDHELD" Beatles Tribute focuses on the glorious avant-garde/ electronic side of the fab 4, with over 20 of the biggest international names in 8-bit chiptune music, all utilizing re-tooled classic GameBoys, Ataris, Apple II, Commodore 64 and Nintendo Entertainment Systems! The upcoming release will include tracks from 8-Bit Weapon w ComputeHer, Bacalao, Anamanaguchi, Bud Melvin, Burnkit 2600, Depreciation Guild, Glomag, Herbert Weixelbaum, Neotericz w Naku, Bubblyfish, Poke-1,170, Shrimps w Robert J Smith, gwEm & Counter Reset, goto80, Receptors, Psilodump, Cheap Dinosaurs, Saskrotch, Minusbaby, Rabato and Aonami!
PEACE!
The Calibrated Mr K.
*08/30/2009: "WANNA HLD YR HANDHELD", 8-BIT OPERATORS' BEATLES micro-chip music comp news soon!
The 8-Bit Operators "wanna hld yr handheld" Beatles Comp focuses on the avante-garde/ electronic side of the fab4, with close to 20 of the biggest names in micro-chip music!
Over a year and a half after starting the comp, it is now near completion and we'll have some news soon.. stay tuned!
*July 24th/25th..Blip Fest Europe!

*Plus..July 30/31st, Era New Horizons Film Fest, Wroclaw, Poland! The Blip crew
rocks again!
*05/12/2009: NEW ReceptorsMusic LIMITED VINYL EP RELEASE!! OUT NOW!
"Independently Healthy : A Roanoke, Virginia Compilation!"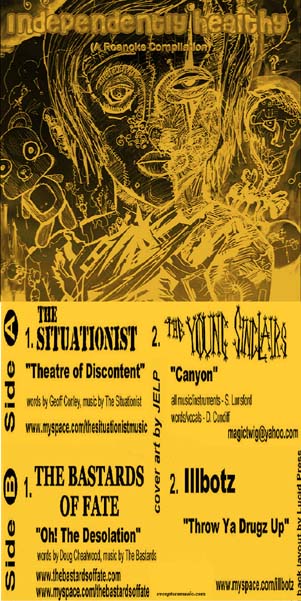 Featuring RECEPTORSMUSIC'S FAVORITE 4 BANDS from OUR HOMETOWN OF ROANOKE in the beautiful Blue Ridge Mountains!
The cover art is by Dickie from Nancy & 2 Meteors!
Brilliantly mastered for vinyl by Tom Ohmsen at Flat5 Studios in neighboring Salem, VA!
ONLY AVAILABLE FROM THE ARTISTS THEMSELVES AND AT LIVE SHOWS!!
CONTACT THEM:
The Bastards of Fate
The Situationist
The Young Sinclairs
Illbotz
WITH ONLY 500 PRESSED AND SELLING QUICK, THIS IS DESTINED TO BE A COLLECTORS ITEM!
* * * * * * * * * * * * * * * * * * * * * * * * *
"21st Century Retro-Futurists - 8-Bit Micro-Chip Music & Video"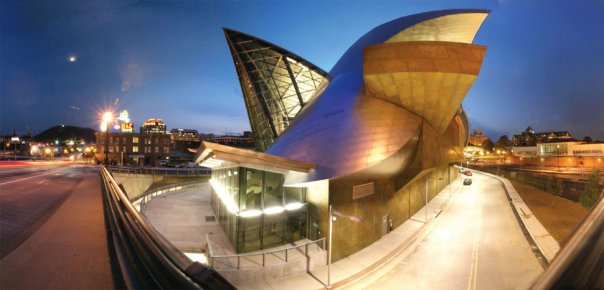 Opening 3/29/09 @The Taubman Museum/ArtVenture.
Here's
a Roanoke Times article on the show.
Here's
the press release.
*02/11/2009: Check out the fresh
Japan EMI release
of
8-Bit Operators Kraftwerk Tribute
w 2 added BONUS tracks from the 12inch! : Glomag's mega-mix version of "Pocket Calculator" (featuring 0x7f, Bit Shifter, Bubblyfish, firestARTer, Hey Kid Nice Robot, Ladybug, M-.-n, Nullsleep, Psilodump, Random, Sidabitball, and David E Sugar) plus "The Robots" by L.A.'s 8-BIT.
Plus check out 8-Bit Operators interview with Jeremy Kolosine for Japanese
"LOUD" Magazine
. Here's the
English translation
*02/10/09: New USA
Retinascan
releases - Including the NEW 3" cd EP by Mommy Was An Asteroid, "Morphballs"
"Wots a space-punk speeding thru space to do? ...the only musical instrument afforded in such tight quarters is the beloved 21st century gameboy micro of course, so have gameboy will travel and hear ye my musical love-poem to a broad in a spacesuit called Samus!" Morphballs: all tracks performed in 2006 on a gameboy micro running nanoloop 2. with art by Sputnik Booster's Nic Cramer!
*02/01/09: 8-Bit Operators Official Page & Group on Facebook.
Here's the new
8-Bit Operators GROUP facebook page
.
Also join the new
8-Bit Operators BAND page on facebook
( w fresh MP3s soon)!
*01/25/09: Receptors in SPIN Mag Picks:
8 Undiscovered Bands Worth A Listen.
*01/20/09: Coming soon on
Retinascan
!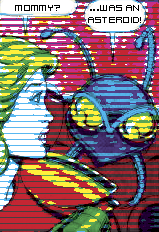 Mommy Was An Asteroid's "Morphballs" 3" EP!
Here's a peek at art by Sputnik Booster's Nic Cramer!
* MERRY CHRISTMAS AND HOLIDAY SEASON, PEOPLE! :)
FREE EP DL AT LAST.FM!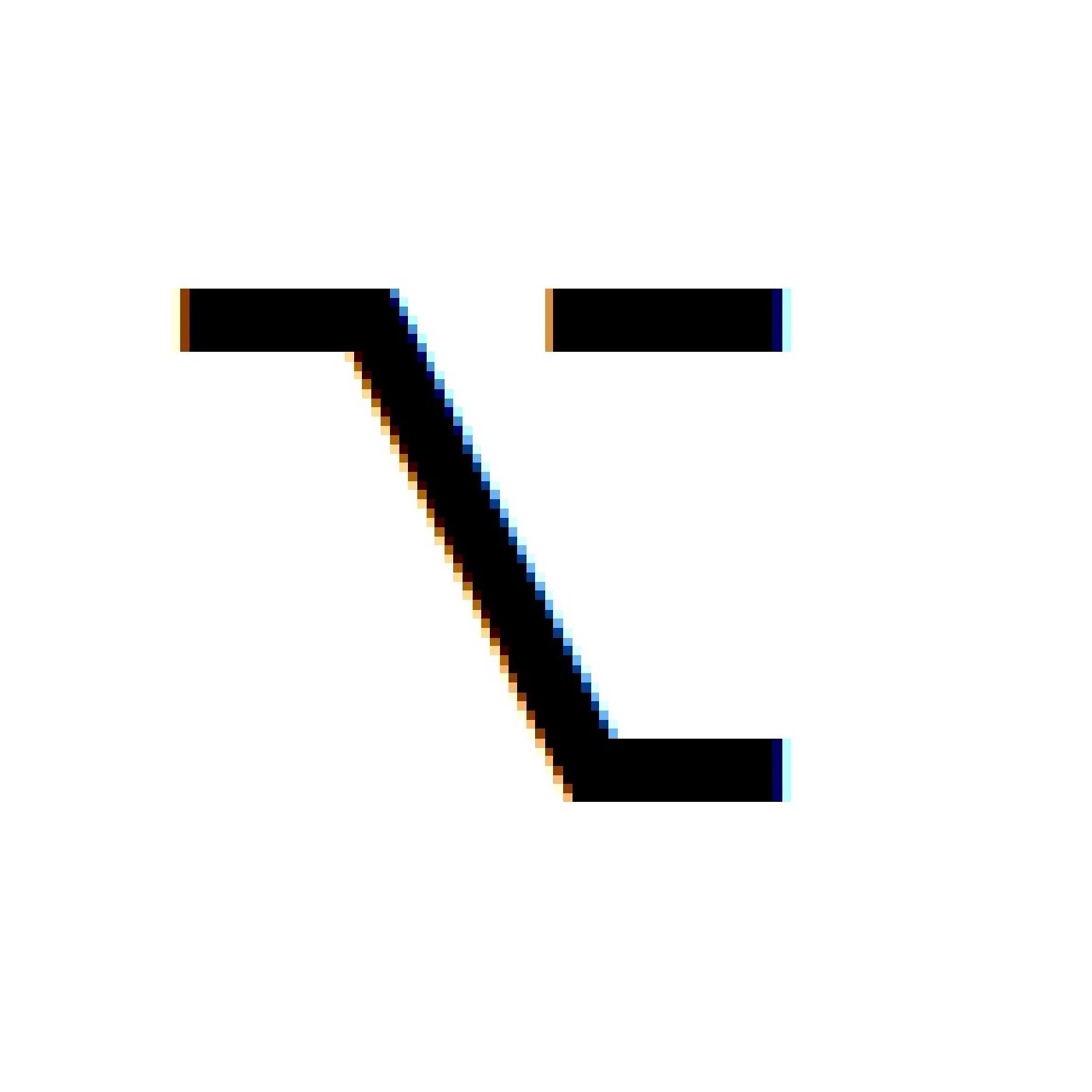 THANKS TO ALL FOR 2008 AND MAY YOU ALL HAVE A HAVE A GREAT 2009!
jeremy
*12/09/2008: Check the new GameBoy Korg DS-10 track "SNOBLIND" on
Receptors Myspace player
*11/03/2008: "21st Century Retro-Futurists" coming to the Taubman Museum.
Stay tuned for the end of December,(*note: ArtVenture opening pushed back to January - ejk) the Taubman Museum's ArtVenture opening of Receptors' interactive gameboy music/video installation/workshop "21st Century Retro-Futurists"!
Attend the Museum's Grande opening Gala this Saturday, Nov 8th!
http://www.taubmanmuseum.org
*10/03/2008:
New interview w Kraftwerk's Ralf Hutter - 8-Bit Operators mentioned.
*09/30/2008: Here's to the real new economy...
Snow spotted falling on Mars.
*09/20/2008: RECEPTORS' "groKwork for gameboy" ALBUM available as FREE DOWNLOAD NOW at Last.Fm:
"GROKWORK FOR GAMEBOY (Korg DS10)"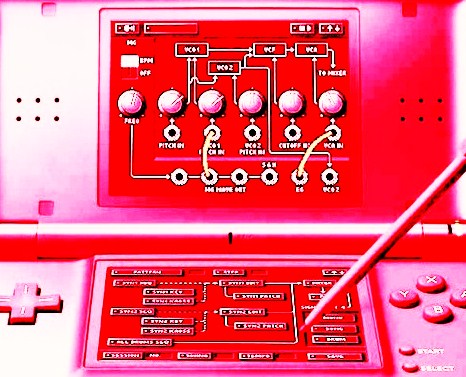 *08/16/2008: GROK WORK!. Korg DS10 Gameboy outtakes.
I got the Japanese version of the new Korg DS-10 cartridge for Nintendo Gameboy DS! Here are some preliminary outtakes i did in the 1st 24 hours with it, just for fun:
my korg_ds10 fanjournal
*08/09/2008: New free chiptune MP3s
New free downloads from Receptors, Bacalao, Minusbaby,TouchBoy and many more:
MICROMUSIC.net
always great to be on the legendary Micromusic!
Plus newly available for free download...
an instrumental 12-bit/vl tone/analog mix of Receptors track :
RECEPTORS - A Boy n His Rom. mp3
...and one MWA track on gameboy w lsdj:
MWA - Tapping Your Line. mp3
*07/09/2008: SWITCHED ON GAMEBOY 2 by PHARMACOM!
ReceptorsMusic and WebLabel Ops continues to blur the musical decades, but now we'll smear shattered bits across the centuries as the 8Bit Ops tentacle ensnares another German maestro gameboy operator in the person of Sascha Müller aka PHARMACOM! His "SWITCHED ON GAMEBOY 1" release from 2005 delighted us lifelong fans of electronically created classical music by recreating JS Bach's 'greatest hits' a la Wendy Carlos on GAMEBOY synth!
I remember the day my older brother Ron brought home Walter Carlos' soundtrack to "A Clockwork Orange", launching a child's keen, albeit naive interest in classical music. With that album and of course the earlier and timeless "Switched On Bach", the pinnacle of the style seemed to have already been reached , with a few more interesting classical portrayals by the likes of Tomita perhaps.
Now, over 30 years later PHARMACOM rekindles our childish affection for classical music and it's cast of dramatic characters with his "SWITCHED ON GAMEBOY 2- KLASSIKS!", a veritable 'their greatest hits' of Beethoven, Hayd, Lizt, Chopin, Schubert and more, performed entirely on the GameBoy Classic synthesiser!
ReceptorsMusic is proud for this to be our 3rd weblabel release.
Thank the internet gods for providing such a work of beauty for FREE! and then thank the illustrious Pharmacom and his fellow geniuses from across the ages.
As a bonus, SWITCHED ON GAMEBOY 1 (selected works of JS Bach) is also available. For both releases, click here: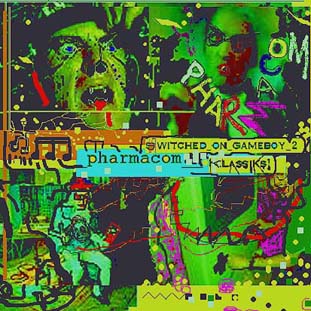 cheers!
Jeremy Kolosine
*07/05/2008:A BUNCH of tracks ADDED to some of our Myspace pages!
go there and befriend/check out newly available tracks :
RECEPTORS 12-bit walkstation/ analog outtake from upcoming album "LO", check "A Boy n His Rom" :
http://myspace.com/receptorsmusic
A bunch of instrumental digital handheld/analog tracks from turn of the century KSINE:
http://myspace.com/ksinemusic
A few more SHAKESPACE shoegazer electro tracks also from the turn of the century:
http://myspace.com/shakespacemusic
Another FUTURISK track from Player Piano EP 1982:
http://myspace.com/futurisk
*05/30/2008 :WANNA HLD YR HANDHELD!
pssst...
stay tuned...
...for some news about a BRAND NEW 8-BIT OPERATORS official release!
nuf sed ;)
http://myspace.com/8bitoperators
*05/27/2008 : NEW gameboy track in the
Receptors Myspace player
:
Receptors' "So Long Thanks For All The Chips"
also available for d/l here:
Receptors - So Long Thanks For All The Chips
cheers!
jksine
*05/24/2008 : Free album d/ls & unreleased tracks at Last.FM...Music For Troops.
In case you haven't stumbled on these pages..
Receptors at Last.FM
8-Bit Operators at Last.FM
Futurisk at Last.FM
Ksine at Last.FM
Shakespace at Last.FM
Mommy Was An Asteroid at Last.FM
Also nice is that
Music for Troops
has
Receptors - Have Gameboy Will Travel
in the playlist:) ... it's a great place for bands to upload their free music and say thanks. I know there's some troops here and abroad who dig some gameboy music when they get a break ;)
*05/20/2008 : "Have Gameboy Will Travel" A NEW Receptors gameboy track in the
Myspace player
also available for d/l here:
Receptors - Have Gameboy Will Travel
*05/05/2008: New Receptors gameboy instrumental track at 8bitcollective:
Receptors - Glass Houses
*05/04/2008:
Crystal Castles accused of stealing from chipscene's LoBat
plus
more here
don't fuck with the 8-bit scene..they'll
spectrally analyze
your arse! :D
more fun here
(update) and ends happily
here.
. *05/01/2008:
*NOW ON ITUNES!
almost ALL of the ReceptorsMusic / No Phase Records official releases!
Receptors (formerly vinyl only)

NOW on ITUNES!
3 Shakespace releases (formerly CD only)


NOW on ITUNES!
3 Ksine releases( formerly CD only)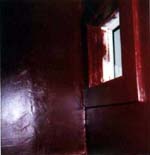 NOW on ITUNES!
*04/19/2008: New Receptors instrumental gameboy track at Receptors Myspace. Plus a show in Roanoke.
The track is called "User Quit", an outtake from the upcoming Receptors "User" EP.
HERE at myspace.com/receptorsmusic
.
Also Receptors has a short show in my hometown Roanoke, Virginia at Plan 9 Records on Saturday April 26th at 10 pm with my friends The Situationist who have a CD release.
*04/03/2008: Introducing the new WebLabel branch of ReceptorsMusic!
Our first 2 releases feature two far-flung friends and 8-Bit Operators; Buenos Aires' lo-bit dance floor star, Neotericz,
and Istanbul's darling chiptune minimalist TB!
NEW! ReceptorsMusic WebLabel Ops :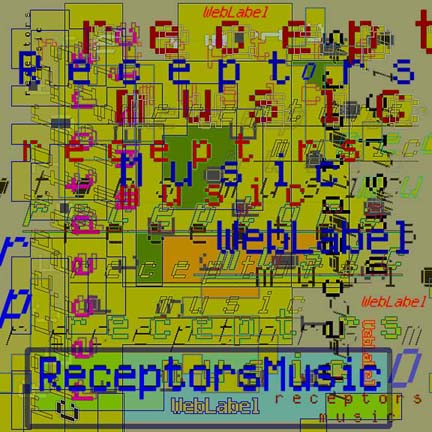 *03/18/2008: "Heroes" Soundtrack out now, Plus SXSW 8BitPeoples Showcase report, "Reformat " on IFC!
First off:
Roll up sci-fi fans and Heroes worshippers!
NBC's "Heroes" Soundtrack!
Executive Produced by me bruv and friend of chiptune Errol Kolosine is out now!
Look at this Heroic line-up!:
The New Pornographers, Panic At The Disco, Nada Surf, Wendy & Lisa, Sheila Chandra, My Morning Jacket, Death Cab For Cutie, Imogen Heap, The Jesus And Mary Chain, Bob Dylan, Cucu Diamantes & Yerba Buena, The Chemical Brothers And Spank Rock, David Bowie!! Nuff said! Get it on ITUNES , Amazon or BestBuy.
And Secondly:
The 8BitPeoples Showcase event at SXSW 2008 went fabulously and was possibly the most fun chiptunes show, outside of BlipFest, that I've ever attended let alone played at! Got to talk further with creators of the 'Reformat The Planet' documentary of BlipFest 2006 which premiered at SXSW FilmFest and is getting enthusiastic reviews everywhere! There's an interview running on IFC this week. Here's the clip, it starts about 5 mins in after the nerdcore and gaming bits:
IFC "Reformat The Planet" interview with 2PlayerProductions and a Glomag gameboy demonstration
!
Here's an interesting blog re the chipmusic presence at SXSW:
InBetween on SXSW chipstuff
I also got to hang with my old Shakespace homie Josh Strawn, whose band Blacklist was playing down the street(!?) and another Roanoke expatriot Will Silero(sp.) who has an 8 piece band ! in Austin i need to check.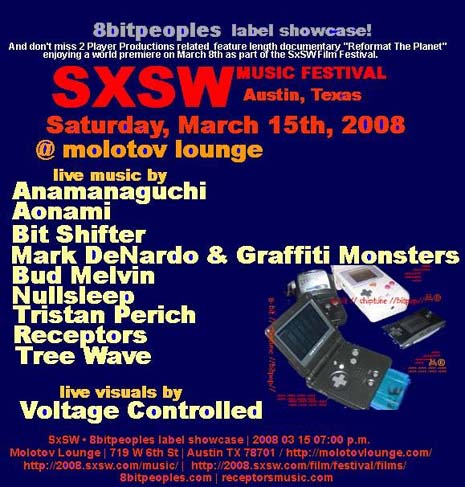 NOW AVAILABLE.
8-BIT OPERATORS T-SHIRTS!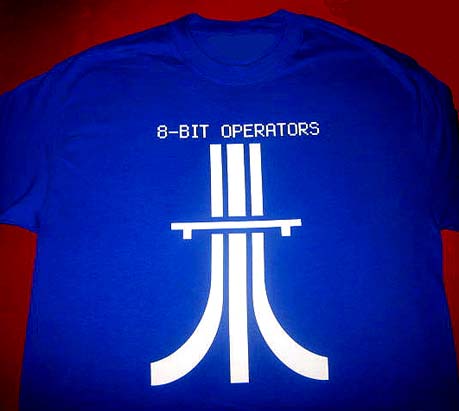 ( Poke's 'AvatariBahn' silk-screen on blue Haines T!)
$19.95 includes FREE shipping worldwide.
FREE BUTTONS with every T-Shirt order!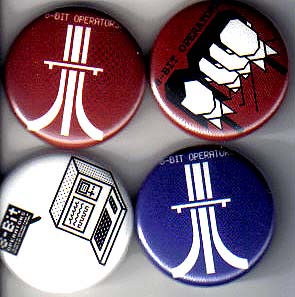 featuring graphics by Otro and Poke!
*03/12/2008: It has arrived! Again. The familiar recipe of past meets future...
Korg DS10
, Korg MS10 emulator for Game Boy DS!
*03/10/2008: Holy crap! I guess I have to burn my
dissed by the QFS
card now since Receptors' gameboy track "Disconnected 08" is now on the hallowed
Micromusic.net
! Go there and download hundreds of familiar and definitive chiptune artist's tracks!
*12/10/2007: New Futurisk vinyl, 8-Bit Ops Tshirts, Blipfest DVD, Ksine ambient on itunes, Toy Symphony shows.
8-Bit Operators AvatariBahn T-Shirts
(by Poke of C-Men!) out later this week!
The
Blip Fest '06 DVD
is out (Receptors has 2 tracks on here)
...meantime, me, the son and the bro were at blipfest 07...amazing of course, here's some
footage from Attack of the Show
and some great
gameboy camera shots by Yes,robot
!
In Tune monthly
goes out to all the high school band classes in the US i'm told, and this month there's an
article on chiptunes
featuring Bubblyfish and other 8-Bit Operators.
My circuit-bent performance of Haydn/Mozart's Toy Symphony with the
Roanoke Symphony
at Virginia Tech was more cohesive and appreciated, i believe, than my Civic Center performance (mostly due to technical difficulties on my end and an unbalanced sound mix). There were many challenges in trying to fit a style of music(circuit-bending) that is governed completely by chaos within the regimen of classical music. Anything I do of this nature again will feature a more melodic chiptune approach which i wasn't able to convey this time handling only the percussive toy sounds of this piece. All in all I had a great time,enjoying David Wiley's wit, and thank all who tolerated my Furbinator mouthing off during Tchaikovsky's "Waltz of the Flowers"!
in other related news:
unreleased Futurisk out on 180 gram vinyl
limited edition
of 500.
Ksine's first dark-ambient xmas album from 2000(composed mainly on the handheld Roland PMA midi-stylophone also triggering various synths.) Now
on itunes
.
Thanks to all,
Happy holidays and have a great new year!
Jeremy
* * * * * *
12/6/2007: R.I.P. Karlheinz Stockhausen (1928-2007).
*December 7th at Salem Civic Ctr, and the 8th at Virginia Tech:
Jeremy Kolosine | The Roanoke Symphony.
Jeremy Kolosine and his "Controller Array" of twisted toys will be part of the Holiday programme for Salem Civic Center on 7th Dec, and Virginia Tech on the 8th Dec:
details regarding the segment:
Roanoke Symphony Orchestra, David Wiley, Music Director
Jeremy Kolosine, Technologist
David Wiley, Conductor & Pianist
F.J. Haydn & Leopold Mozart "Toy Symphony" [First movement, Allegro]
with soloist Jeremy Kolosine, Technologist (toys = Kolosine on electronics)
Kolosine's parts will basically be the percussive runs originally performed on the toy drum,rattle, triangle, toy trumpet, quail(cuckoo?) and nightingale, but will instead be replaced by electronic circuit-bent & modified toys (ie: the circuit-bent furby will take the nightingale part)
some equipment to be used:
circuit-bent furby | circuit-bent speak & spell | pocket theremin | atari 2600 & controllers/carts | nintendo system/controllers/carts | gameboy classic/carts|gameboy ds
tickets
here
*11/03/2007: DO NOT MISS THIS!!

*11/01/2007: Receptors rocks Reykjavik / NY / Roanoke!
A productive few weeks on the receptorsmusic front..
Played the Iceland Airwaves festival! My show on Friday night at the Barinn Airwaves club went good and got a great reception from the small but enthusiastic crowd, i must have had a dozen or more people come up to me and ask about or comment that they dug it. Receptors also got a nice pic and positive mention by Billboard's Katie Hasty in the daily review paper that comes out there (will post soon). All the acts were great that night, but i particularly liked Van Of Two's stuff. Also met members of Iceland's Hellvar who i will be working with soon.
The next morning to my amazement i woke up early enough to catch the ride to the legendary Blue Lagoon party which was memorable indeed.
Iceland Airwaves home
While in Reykjavik i also made the acquaintance of the members of !!! , Annuals and Of Montreal, among others, all of whom were a funny and nice bunch of guys, and showed a curious and sincere interest in the gameboy applications in my music. I also got to catch all of their shows on Saturday.
Then it was back to NYC where Glomag and Receptors played an 8-Bit Operators '80's gameboy covers war at some giant party opening for the B52's! Us 2 old grey boys have to do that again soon !
Back in Roanoke, had a quite productive meeting with Roanoke Symphony Director David Wiley regarding a joint project for this season's holiday program(stay tuned for more on that)! Thanks to Museum Director David Brown this project will also involve a piece for the opening of the breathtakingly Futuristic new Art Museum of Western Virginia building in 2008!
Art Museum Of Western Virginia construction cam
next up! attend Blipfest in NYC the end of the month!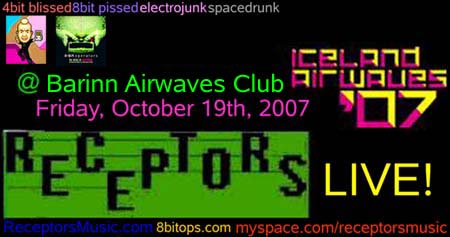 *09/27/07: New videos & tracks! Receptors at Iceland Fest!
Receptors plays the Iceland festival Oct 19th,2007!
Iceland Airwaves:
icelandairwaves.com
Receptors profile
and here's some new Receptors demo outtakes from the upcoming "LO" album:
Receptors-Disconnected07
(gameboy version)
Receptors-DoTheStasis-gameboyMicro
(gameboy micro )...every artist needs a dance ;)
Receptors w Glomag - Disconnected live footage from Pulsewave NYC
Lost in archival territory we find an old 1982 video posted by my friend Veronica
Futurisk : Army Now 1982 vid
Stay tuned for more news about all these projects in the coming weeks..
*Saturday, September, 15, 2007 at Pulsewave @ The Tank ,NYC.
performances by
Glomag | Receptors | Touchboy | Nullsleep
plus live Visuals by Dan Winckler.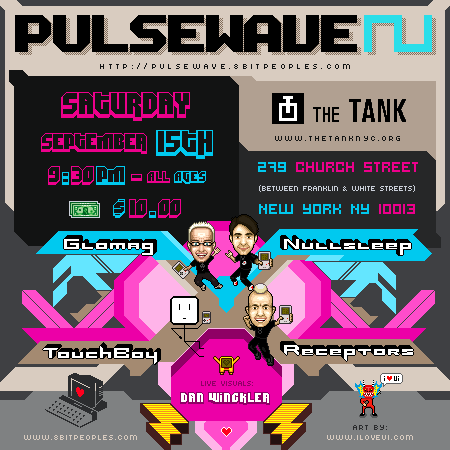 *09/11/07: new tracks new york :
Now up
here
and on the
myspace.com/receptorsmusic
page... I did yet another version of Hawkwind/Robert Calvert's "Aerospaceage Inferno" done solely on 1 grey gameboy with vocoded midi stylyphone,prompted this time in preparation for a request at this saturday's NYC Tank show I'll be playing at with Glomag, Nullsleep, Touchboy and Dan Winckler. I've been playing this song since i was 15 and to me it's like musical comfort food as is the entire "Captain Lockheed & the Starfighters" album! This saturday I will also do a new Kraftwerk cover ;) and a few new originals from the forthcoming Receptors " LO " CD nearing completion finally...
( it seems now that the "Wanna Hold Your Handheld" may be materializing into an 8BitOps title instead ;)
*08/07/07: 8 bit-friendly skies...music for airplanes!
It was exciting to discover that Receptors' version of Kraftwerk's 'Trans Europe Express', from the 8-Bit Operators album, was flying thru the skies on the
American Airlines inflight 'Buzz' playlist
all last month!
*06/07/07: Official LCD Soundsystem Ringtunes by Receptors!
8-Bit Operators member Jeremy Kolosine / aka Receptors, has completed a set of unique Real ringtones for LCD Soundsystem! The ringtunes , which are re-interpretations of all 9 tracks on the brand new hit album "Sound Of Silver" , were arranged and created in 8-bit fashion on the gameboy synth. The first batch of Real tones have been posted
here
and
here
. See more at
dfarecords.com
and
lcdsoundsystem.com
*04/30/07: Links to 8BitOps NPR piece, BlipFest on MTV.com, more...
Here are links to some recent related airwave action regarding 8-Bit Operators, plus the growing 8-bit and circuit-bending scenes...
"Kraftwerk Gets a New Sound on '8-Bit Operators' " on NPR
BLIP Fest video on MTV.com
"Gadget Gurus Go Wild at BENT Festival" on NPR
*04/27/2007: NPR Interview with 8-BIT OPERATORS' Jeremy Kolosine this Sunday, April 29th!
On National Public Radio this Sunday, 29th April, check out the interview with Jeremy Kolosine about the 8-Bit Operators Kraftwerk Tribute release and 8-bit music!
It airs this Sunday morning on the Weekend Edition which runs from 8AM to 10AM in most places..
Find a program broadcast time
related links and live stream:
National Public Radio's Weekend Edition Sunday
NPR's Ned Wharton
also the cd was released in Canada this week:
amazon.ca~8-Bit-Operators
Dr Ops
8BitOps.com
CURRENT RELEASES: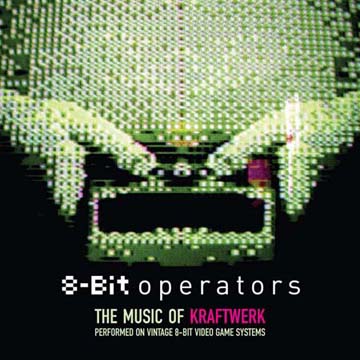 on
hear more and join us at:
myspace.com/8bitoperators
and
8bitOps.com
order the cd NOW from
AMAZON
or get it at
ITUNES!
Get the exclusive 12inch/dowlnload on
ITUNES
ALSO OUT NOW:
MOMMY WAS an ASTEROID's "JUMPIN JACK FLASHCART"
on
RETINASCAN!
* * * * * * * * * * * * * * * * * * * * * * * * * * * * * * * * * * * *
03/03/2007: 2 NEW 8-BIT OPERATORS gameboy KRAFTWERK covers from BIT SHIFTER, COVOX!
Check out fresh full tracks from 2 GIANTS of the NYC and Stockholm gameboy electro scenes...
the mighty *BIT SHIFTER's rollicking face smacking take of KRAFTWERK's "Antenna"!
Pop Matters said of it: "one of several points at which it becomes difficult to deny that this is effective pop music, however it's made."
and the delightful *COVOX's heart-throbbing version of KRAFTWERK's "Computer Love"!
"This song will change your life " says The Village Voice!
"3 of 4 Bunny Ears"from Playboy!
Hear them both in their entirety NOW at:
http://myspace.com/8bitoperators
to hear/read more and to buy cd/download :
http://8BitOps.com
What the press is saying about "8-Bit Operators - Kraftwerk Tribute" CD on Astralwerks:
"Is the technofuturist tunage of Kraftwerk not geeky enough for you? Interface with this tribute album to Düsseldorf's finest, which was made by some of the biggest artists in the chiptune world."
Wired Mag
"As forward thinking as Kraftwerk were, they also had an enduring fondness for the pleasure of nostalgia. And the music here draws from that well, adds a twist, and finds a way to look to the future and the past at the same time."
Pitchfork
"If you find a way to hack into my nintendo so this is playing along to Mike Tyson' Punch Out, I will never leave the house."
Village Voice
"Unlike just about every Kraftwerk tribute record to date, 8-Bit Operators is the modern(wel, throw back modern) response to the producers and bands who have failed to pay proper homage to machine music's innovators."
XLR8R
"its clear that only the vintage gaming audio suited this compilation- no other method captures the mechanical mindset and imaginative potential of a band as important as Kraftwerk."
Weekly Geek
"immerses the listener in a strange, swirling temporal vortex of music written by a futuristic electronic band in the late '70s and early '80s, reimagined by retro-holic musicians in 2006 using a sound palette straight out of a video game console circa 1981, with technical flourishes only available in software invented in the last five years."
Orlando Weekly
"While there have been tribute albums to Kraftwerk before, perhaps the most inspired attempt at reinterpreting the German group's canon arrives in the form of 8-Bit Operators' The Music Of Kraftwerk album."
1 Up
"Anyone with an olde fashioned Nintendo will get a kick out of the music, and it does not come off as a novelty either (something increasingly hard to do with tribute discs)."
Static
"These tracks stay true to the roots of each song, yet bring something of each artists style to the mix; walking the line between rocking out and robo-boogie. The CD has 15 tracks, and would be a great mix for any party, dance, or at work at those times when you need to embrace your inner drone."
Retro Thing
"Put out by the [micro]superstars of the chiptuniverse, 8-Bit Operators, these lo-bit microchipmeisters and their homemade circuit-bent contraptions actually seem worthy enough to cover the classics of Der Düsseldorf Man-Machines."
Robot Sound
"This tribute with a twist is far from silly, even if it sounds rather goofy on paper.8-Bit Operators is a collective of electronic bands that constructs tracks out of blips, bleeps and blasts from vintage video games. 8-Bit Operators joins forces here to re-create the pioneering songs of Kraftwerk with astonishing results."
Boston Herald
read these reviews and more at:
http://8bitoperators.com/press.html
thanks fellow Bitniks!
Dr Ops.
http://8bitoperators.com
http://8bitops.com
http://myspace.com/8bitoperators
http://astralwerks.com/kraftwerk
*02/06/2007: OUT NOW! 8-Bit Kraftwerk tribute on Astralwerks!
Thanks from 8-Bit Operators..
When the 8-Bit Operators project began to take form,it was as an internet driven concept starting roughly 2 years ago. It was set into concrete motion exclusively through artistic meetings and international relationships established via web communities and communications through emails and sound file transfers. Indeed, the trail of countless posts left behind by me (undoubtedly irritating to some) may remain as a loose documentation of the project's unfolding.
The final line up of 8-Bit Operators ultimately consists of contacts made solely on Lo-bit-electro groups and communities such as the Yahoo LittleSoundDJ and Nanoloop groups, and the Live Journal GameboyMusic and CircuitBending groups, Myspace and of course, the online Micromusic community. This truly was a grass roots global project from the start.
Now the concept is a reality. Today, "8-Bit Operators - An 8- Bit Tribute to Kraftwerk" will be available everywhere you can buy music, and it's in no small way due to the ongoing support of online communities that spawned the three dozen musicians and artists who contributed to the completion of this work, a testament to the 21st century wave of chuptune/ bit- pop/ 8-bitpop microstars!
The 8-Bit Operators CD and Vinyl are already making a splash on college radio, arriving at #1 on North American college Electronic/RPM charts...here's what reviewers are saying :
Wired Magazine: 8-Bit Operators named #2 in top Ten Cool things for Feb '07!
Remix Magazine: 4 out of 5 stars "Highly listenable with excellent arrangements and beats"
Future Music:"this compilation nails the robo-vibe of Kraftwerk's Computer World era with faithful melodic recreations of tunes spanning all but the earliest efforts by Herrs Hutter and Schneider"
Check out the concept, all the CD / 12 inch tracks, plus artist bios/links:
8bitops.com
hear more and join us at:
myspace.com/8bitoperators
order the cd NOW from
amazon
get it at
ITUNES!
get the Megamix on
ITUNES
Thanks to all from the 8-Bit Operators!
JKsine,
Dr Ops
8BitOperators.com
* * * * *
*02/03/07:
"Errol & Astralwerks..."
*02/02/07: New photos of the 8-Bit Operators are being added to the
8BitOperators.com visuals page
and
http://myspace.com/8bitoperators
(pics link)
keep checking back as we add more ..
Dr Ops
http://8bitops.com
*02/01/07- Anticipation grows in wait of the 8-Bit Operators CD release this coming Tuesday...lots of college airplay, with 8BitOps entering the Canadian college charts (electro rpm) at #1 ! Plus great reviews abound with Wired Mag naming 8-Bit Operators as #2 (second only to "Survivorman"!)in their 10 fave things for Feb '07!(check the
Press
page links)
In celebration of the release, Swedish bitpop stars Covox, Psilodump and Random will be throwing a
CD release show
in Stockholm on Feb 10th!
HEAR
8-BIT OPERATORS "Pocket Calculator"(MEGA MIX)- NOW AVAILABLE!
exclusively on Vinyl & download on
Amazon
&
ITUNES!
PRE-ORDER 8-BIT OPERATORS CD now at Amazon!
*HAPPY NEW YEAR 2007!
Hope you all have a great year...
Check out 2 MORE advance listens from the upcoming
"8-BIT OPERATORS" Tribute to Kraftwerk CD!
..here's David E Sugar's gameboy/funk-guitar version of "Radioactivity"
and 8-Bit Weapon's C64/chip-syndrum attack (featuring Stacy Superstix) on "Spacelab"!
at
http://myspace.com/8bitoperators
* * * * * * * * * * * *
01/01/07: check out a new gameboy track from Receptors to commemorate BlipFest '06!
(mp3) Receptors - Smack Yo Blip Up!
(2007)
(thanks to dr™ at
Robotsound.com
for the title ;)
Have a great 2007!
*12/21/06: MERRY CHRISTMAS!
Enjoy
Herbert Weixelbaum's
Gameboy version of
"Santa Claus Is Coming To Town!
*12/09/06: Check out 2 exclusive tracks from the upcoming 8-Bit Operators release, "An 8-Bit Tribute to the Music of Kraftwerk" CD & vinyl , due out February '07 on Astralwerks! Go to:
http://myspace.com/8bitoperators
and hear the full version of Glomag's MegaMix of "Pocket Calculator" !
...and enjoy Bacalao's "The Robots(Die Roboter)" in it's entirety!
*12/08/06 - Check out some great links re the Blip Fest (which I am still reeling from playing /attending )
I'm still not sure it really happened...
Thanks to everyone involved, especially 8-BitPeoples , Bit shifter and the Tank!
I will never forget the 1st annual Blip Festival NYC!
OUT NOW!: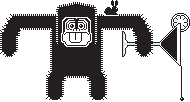 Blip shows on YouTube
Wired blog on Blip
Blip on Microscopiq
Great photolog on Blip
Vertexlist blogspot on Blip
on Gamesetwatch
fort90 journal on blip
Blip on Flickr
Check out 8BitPeoples' 8BP050 CD for BlipFest

blip!
Blip Fest 06 in NYC-Nov 30th - Dec 3rd
*11/29/06- There's a new alternate web address from 8BitOperators.com , now you can use
8bitops.com
too.
RELEASES UPDATE:


8-Bit OPERATORS
An 8-Bit tribute to the music of KRAFTWERK.
CD & Vinyl
Release Date: February 6, 2007
on ASTRALWERKS!
"People grew up immersed in this stuff – that 8-bit, blippy sound speaks to them on a deep level. It's taking back a pure and total part of our childhood and turning it into something crazy and new" – Mike Rosenthal, artistic director, Blip Festival, NYC in XLR8R magazine, November 2006
A labor of love, many years in the making, Astralwerks is pleased to present a various artist covers compilation, featuring interpretations of classic Kraftwerk songs, arranged primarily on lo-bit handheld gaming devices, vintage video game consoles and obsolete 8 bit home computers, revered for the rich and distinctive sound of their lo-bit microchips. This video game-influenced branch of electronic music, sometimes referred to as 'chiptune', 'bitpop' or just '8-bit', has developed a flourishing international live scene, and is one of the first new genres of music to use the internet to its fullest advantage, with the advent of home-brewed synth cartridges and hacker influenced musical tools.
As one of the New York chip artists Glomag said in a 2004 Art Forum interview, "We've made Kraftwerk's phrase 'I'm the operator with my Pocket Calculator' more apt than ever".
Conceived and compiled by long-time electronic artist and 8-bit composer Jeremy Kolosine(a.k.a. Receptors), the 8-BIT OPERATORS collection features some of the top 8-bit artists from North America, South America and Europe, a selection of the best musical innovators, and several of the inventors themselves.
A 12" single (and digital download equivalent) will precede the CD launch and will feature Glomag's exclusive 8-Bit Operators' mega-mix version of "Pocket Calculator" (featuring 0x7f, Bit Shifter, Bubblyfish, firestARTer, Hey Kid Nice Robot, Ladybug, M-.-n, Nullsleep, Psilodump, Random, Sidabitball, and David E Sugar) plus an exclusive version of "The Robots" by L.A.'s 8-BIT.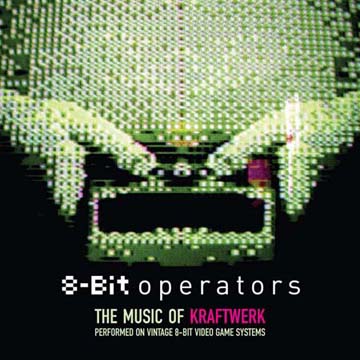 CD Tracklisting:
01. Bacalao - The Robots (Die Roboter) - Switzerland
02. Glomag - Pocket Calculator - USA
03. Covox - Computer Love - Sweden
04. Role Model - Showroom Dummies - Sweden
05. Nullsleep - The Model - USA
06. David E. Sugar – Radioactivity - UK
07. Oliver Wittchow – Kristallo - Germany
08. 8-Bit Weapon – Spacelab - USA
09. firestARTer - Computer World (Computerwelt) - Germany
10. Neotericz - Electric Café - Argentina
11. Receptors - Trans Europe Express - USA
12. Herbert Weixelbaum – Tanzmusik - Austria
13. Bubblyfish - It's More Fun To Compute - USA
14. Bit Shifter – Antenna - USA
15. gwEm and Counter Reset - The Man-Machine (Die Mensch-Maschine) - UK
8-Bit Operators Press kit
Stay posted for more news...
contact:
INFO at 8BITOPERATORS dot com
* * * * *
OTHER NEWS
*11/27/06:Press mentions re
8BitOps in XLR8R
,
Blip fest in Village Voice
,
Vertexlist 8-bit blog
.
*11/20/06: This month's issue of
WonkaVison Magazine
is the McFarlane toy issue, and has an article about bands who use toys as instruments. Receptors is 'exibit A' on page 67. :)
*11/10/2006:
XLR8TR Mag's
November '06 has an interview with Mike Rosenthal regarding the upcoming Blip Festival in NYC .
*11/01/06: Thanks to Naughtyboy from 8-Bit Weapon for informing me that ReceptorsMusic is mentioned in the newest issue of
Future Music Magazine
on page 126. ReceptorsMusic.com is #1 under "Ways To Be Noticed, Gear under $100". It has a pic of a Gameboy classic , & 'join the 8-bit revolution' with a link to this site! This helps solidify my image as the poor man's electro gear guy yet again..
J =)
OTHER UPCOMING RELEASES IN 2006/2007:
RECEPTORS ' full length CD
[here's a bonus track (mp3) :
RECEPTORS - My Secret Side
-(2005) gameboy w nes & sid ]
MOMMY WAS an ASTEROID's full length CD "JUMPIN JACK FLASHCART" due out in 2006 on
RETINASCAN!
[...an advance listen (mp3) :
MOMMY WAS AN ASTEROID - Melt(abridged)
-(2006) gameboy color nano 1.3]
* * * * * *
*10/03/06:a weblabel exculsive release: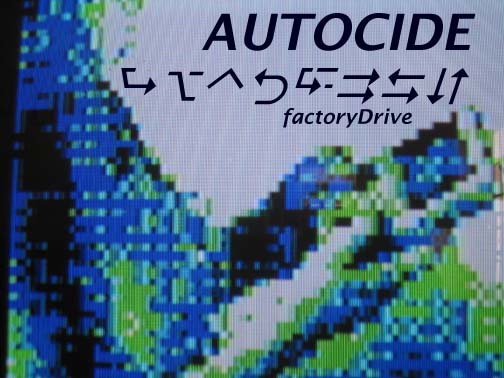 AUTOCIDE - "Factory Drive EP" (2006 Gainlad Weblabel)
"Five tracks that will take you from your boring job and life to a playful gameland, rich in emotions and adventure."(neotericz/ignat)
Download some of the best quality chip music for FREE at
Gainlad!
* * * * *
*09/29/06:The new movie '8-BIT' is premiering at MoMA on October 7, 8:00 PM. Director Marcin Ramocki and Producer/Co-Director Justin Strawhand will be in attendance.There is a follow up screening on the 11th. This film features many of the 8-BIT OPERATORS!
For more info, trailer :
8-Bit - the movie
* * * * * * *
*09/05/06: New tracks from EMIN done on one gameboy classic, running lsdj:
EMIN - sparky3
..more here on the audio page
* * * * * * *
*08/30/06 - OK, I've been dragged kicking and screaming to the template world of Myspace, no denying it is fun. Perhaps it will be as fun and productive as the original mp3.com and IUMA were back in the late '90's. Shakespace and Ksine made a bit of a splash on those sites from about '98 thru '02...
this time I'm concentrating on my 2 latest projects:
http://myspace.com/8bitoperators
http://myspace.com/receptorsmusic
Come join us!
* * * * * * *
*05/31/2006: Check out the
nice article about the International Chiptune Resistance!
*05/25/2006: Holy crap!:
...brain waves control robot...
04\27\06: *Check out the
AP story on the Bent 2006
..this year's
Annual Circuit Bending Festival in NYC
..and here's a shot of
Receptors on flickr by mindphone divided.
04/02/2006:
XLR8TR Mag interview with L.A's 8-bit super-friends 8-BIT WEAPON and 8-BIT, the 8-bitches!
03/30/2006:
Remix Mag interview with my bro Errol! :)
03/24/2006:
Great interview with Bit Shifter!
03/15/2006:
Cool interview with Nullsleep of 8BitPeoples!
02/09/06:..and the
winners are...
02/04/06: WOW! Some people I was lucky to meet lately are up for a Grammy on Wednesday night!! Not to mention a family member!!! LCD Soundsystem/The DFA, Chemical Bros and Kraftwerk all up for dance category Grammys, and my bro Errol up for a soundtrack producer Grammy!! Hmmm, a good year for Astralwerks... Good luck to all!
01/27/06: Releases planned for 2006:
MOMMY WAS an ASTEROID's FULL LENGTH CD "JUMPIN JACK FLASHCART" due out in 2006 on
RETINASCAN!
RECEPTORS' FULL LENGTH CD
..and of course the "8-BIT OPERATORS" LO-BIT MICROCHIP KRAFTWERK COVERS COMP, due out early 2006 on label tba ;-)...STAY TUNED.....
12/26/05: Merry Christmas all... I've been playing with my Christmas toys..one being the new nanoloop 1.3beta cart I just recieved!
10/31/05: A couple of new comps: Check out Gainlad's Halloween release,
Chip'O'Lantern Comp
with an Autocide track featuring Ignat the 8-bit Zombie!
*...and
Tribute to a Love Singer Comp v.2
, including Ksine's Omnichord / Pocket Music version of My Way.
* * * * * * *
10/25/05 - On October 22,'05
The INTERNATIONAL CHIPTUNE RESISTANCE
show at The Tank NYC was one of the best shows I've ever been part of.The place was packed with lo-bit fans, and every set was awesome! Thanks to Paris for the visuals during the Receptors set and all who participated in this historic chiptune event! Here's some
pix by Dave Wolcheck.
..and check out the
photos
of
Bit Shifter & Nullsleep getting arrested for flyering the show!
* * * * * * *
10/20/05: Here's a brand new Receptors remix by Neotericz from Buenos Aires! Check out the Gameboy remix of the track 'Disconnected', featuring Leigh Anne Thompson's great vocals...
Neotericz-Receptors-Disconnected-(DanceInDust-GameBoyMix)
-(2005)
* * * * * * *
9/25/05:
New Nanoloop 1.3 page
* * * * * * *
08/22/2005
R.I.P Bob Moog.
* * * * * * *
*On Friday, September 16th 2005 Receptors will perform at the
CMJ Music Marathon
showcase...at the
Cake Shop
in NYC's lower east side.My pals
8-BIT
from LA will also be performing :Show schedule:8:00-Receptors/ 9:00-8-Bit/ 10:00-Friends Like These/ 11:00-Washington Social Club/ 12:00-Mark Mallman/ 1:00-The Hawaii Show.
* * * * *
08/21/2005: Check out Tad Dickens' cool
Receptors Podcast
for the Roanoke Times...
* * * * * * *
*06/24/2005: Now It Can Be Told Dept: Well, the secret track on the Receptors/MWA vinyl has been discovered! No, that's NOT a scratch on side 2 of "Controller Array EP"..it's a 'locked groove' that repeats the word 'mountainside' indefinitely at the end of the track "Devil's Backbone"(named after a mountain here in Roanoke) Hehe...the secret unlisted track "stuck in This City" is right after it ;)...there's a clue on the back sleeve btw...
* * * * *
*06/18/2005:New MWA MP, "redNails" at
Gainlad
netlabel...features exclusive ambient Game Boy tracks using lsdj,nanoloops& GB Camera.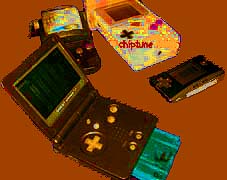 * * * * *
*06/08/2005:
Got to meet Kraftwerk !(everyone but Mr Schneider) at an unofficial afterparty following Kraftwerk's June 1st
NYC show
.I got to tell Mr Hutter about the upcoming 8-bit-artist Kraftwerk covers compilation we're hosting, called "We're The Operators" & I took the enormous liberty of giving Ralf my gameboy with LittleSoundDJ cartridge, which he politely humored me and accepted. I will treasure the moment forever. JKsine.
* * * * *
*06/07/2005:
Receptors/MWA's 7 inch EP now available worldwide to
order
thru the highly regarded German chip-electro label
RETINASCAN!
* * * * *
*06/04/2005:
Superstar DJ Larry TEE's
Gentle Electric
compilation is OUT NOW! It includes an exclusive RECEPTORS Moog version of "Everything Fades Away", as well as 16 other tracks by the likes of Stephin Merritt's Future Bible Heroes, WIT, Freezepop and Larry himself!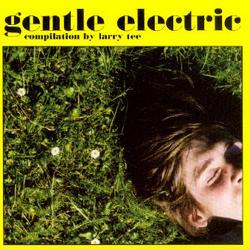 * 05/05/2005:
Receptors peformed at the 2nd annual
BENT
2005 circuit-bending fest in NYC.., Saturday April 30th 2005...it was a great time! thanks everyone who saw my show & bought records , the micro-chipsters and my heroes i finally got to meet...Glomag,Nullsleep,Bubblyfish & Bitshifter as well as micropeeps Gijs, lektrogirl ...plus the legendary Bill T Miller & Paul B Davis...
Here's an awesome pic of my Furbinator (circuit-bent furby)shot by KaizerS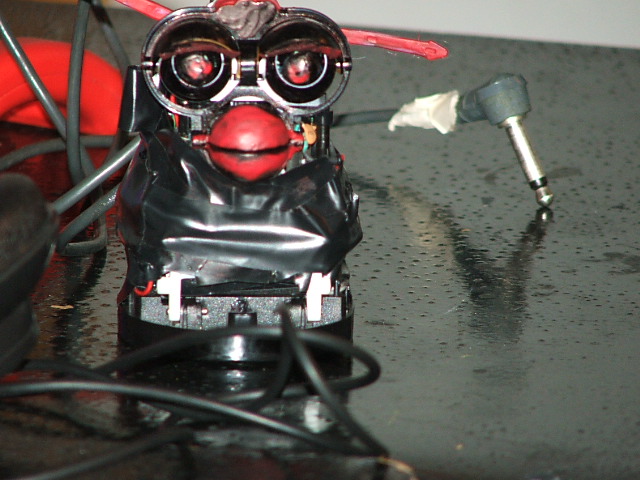 * * * * *
*RECEPTORS w MWA split 7" "CONTROLLER ARRAY" EP!

Vinyl sold out !
NOW ON ITUNES!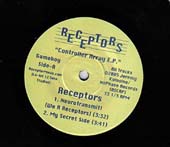 *Includes 2 new gameboy / sidstation tracks plus 2 new atari / nes tracks!
*gameboy camera stickers with each of the 1st 500 copies...
gameboy side:RECEPTORS/
1.Receptors - Neurotransmit!We R Receptors 3:39
2. My Secret Side 3:36
atari side:MOMMY WAS an ASTEROID/
1.
SpeakFreak (gameboy camera lo-fi vid promo)
2:02
2.Devil's Backbone 3:34
*Check the
RECORDS
page for other official releases available for purchase...
*****************************************************************************************
* 04/02/2005
The RECEPTORS track 'Disconnected' is featured in a new wake-skating DVD now for sale:
Flatline:Disconnected
.(Check the trailer featuring the track).
* * * * *
*02/01/2005
Treewave's
Paul Slocum
, inventor of Atari Synthcart(and numerous other wonderful music tools, including the musical dot-matrix printer!) has posted 2 Receptors loop demos performed on the current beta version of the upcoming Atari 2600 Loopcart!
* * * * *
*01/31/2005
Colette Paris
has just pressed 500 more promo copies( originally 10,000 sold )of James Murphy's 2003
DFA
mix CD in conjunction with the release of Mr Murphy's debut
LCD Soundsystem
album release on EMI UK.
This is the influential mix that opens with the
Futurisk
track 'Push Me Pull You(Pt.2)'.
Hear tracks at Tigersushi...
* * * * *
* * * * *
*11/11/2004:
Thanks to
Roanoke Times
for their Nov 6 Extra cover story all about Receptors, gameboy & atari music, plus a cool futurist music timeline that mentioned the likes of Delia Derbyshire, Eno, MBV, Glomag & Bitshifter...& Futurisk.Plus Eric Brady provided some great shots of my live controller array setup that shows the lsdj, nanoloop & synthcart .
* * * * *
*06/04/2004:
Our return engagement at
PIANOS
in NYC.. Check out the SHOWS page for more, including Receptors' live gameboy track "Lo-bit-12-tone 1[variation]". ..
* * * * *
*04/25/2004:
Micromusic Gwem's
open letter to Malcolm MClaren
* * * * *
*04/04/2004:
Receptors first live show at NYC East Village PIANOS. This was my 1st ALL electronic live show since the final
FUTURISK
show. Musically it went great.,,(see the SHOWS page for more..)
* * * * *
invsblInkEg
*12/02/2003:
Thrasher Mag's
"'Skater Of The Year-13 Years in the Making'"
is now available on DVD & VHS.Part of a Shakespace/Ksine track is used, as well as songs by Black Heart Procession , Fischerspooner , Bad Religion & Rancid (and many more...)
* * * * *
*05/28/2003:
FUTURISK TRACK FEATURED ON THE DFA's REMIX CD FROM COLETTE.
The cutting edge producer/artists
The DFA
have featured the 1981
Futurisk
track 'Push Me Pull You(Pt.2)' by Jeremy Kolosine & Richard Hess, as the opening cut on their brand new remix compilation released by Paris house of fashion/art Colette.
Epitonic.com says'...the NYC production duo James Murphy and Tim Goldsworthy - The DFA. James founded the Plantain Recording House and has recorded June of 44,Primal Scream, Six Finger Satellite, Trans Am and many more. Tim is a founding member of U.N.K.L.E. and has remixed groups such as The Verve, Radiohead, Beck, Can,Tortoise, and Massive Attack. The DFA seems to be successfully diving into the noisy New York underground...' Check out these 2 current club smashes produced by The DFA:LCD Soundsystem's 'Losing My Edge' The Rapture's 'House of Jealous Lovers.' at
Epitonic's DFA page
The double CD 'Colette No 5' is out now and is the newest in a string of releases compiled by renowned sound designer Michel Gaubert and Marie Branellec for Colette.The always eclectic mix of tracks, this time focuses on groundbreaking '80's electro, as well as new and unreleased songs, such as the brand new Rapture and an unreleased Human League cut.Go to
Hear tracks at Tigersushi...
or
Colette Paris
Futurisk
was an early electro-punk group, that recorded and performed from 1979-1983 and had two vinyl releases that received some attention at the time.Their electronic style was new and difficult for most listeners in the band's homebase of Fort Lauderdale,Fla. The track 'Push Me,Pull You (Pt.2)' was Futurisk's first excursion into what could be called electro-funk.
Jeremy Kolosine currently records/produces as Ksine.His most recent projects can be found at www.kolosine.com
CURRENT NEWS
HERE
...
2013-2011
☛
2010-2003
.

8-bit futurist | electro-funk | space-punk /// music & content: copyright 2000-2011 jeremy kolosine / ReceptorsMusic/ Clark Humphrey Records / No Phase Records /// o'buckley - webdesign